What is The Correct Name for This Shape?

Posted:
Sun Oct 25, 2020 4:45 pm
The forum has been very quiet recently . . I hope everyone is ok!
Does anyone know the correct geometric name for this shape: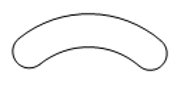 A google search of 'Curved Stadium', 'Curved Obround', 'Curved Arch', 'Bent Sausage' and the like doesn't yield any results, so I thought I'd ask the collective brains of the forum

If it doesn't have a proper name then maybe we could give it one!
Cheers in advance
Dave