There are 3 sections to this support area:
DOWNLOADS: access to product manuals, support files and drivers
HELP & INFORMATION: tutorials and example files for learning or finding pre-made modules for your projects
USER FORUMS: meet with other users and exchange ideas, you can also get help and assistance here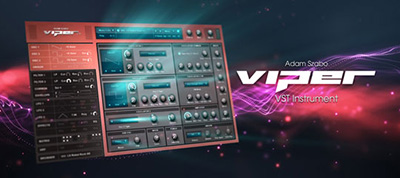 Hi guys,
Maybe not everyone has seen it, but I am very proud to have released my new synth Viper. It was many years ago since I have started making it and it was a very long journey but it is finally finished. I have gone to great lengths to create something special, and show what is possible with FlowStone. I hope that it will get more people interested in FlowStone and now that 64 bit is going to be possible, I hope it will be taken more seriously and not seen as a 'toy'. I would like thank Maik Menz, Martin Vicanek, Thomas Krause, Thomas Chatfield and Malcom Barbour for their technical help and support and they gave me motivation to continue even when I thought I would give up!
You can find more information about it on my site:
http://www.adamszabo.com/viper/
Feel free to give the demo version for a spin!
And here is an introduction you tube video:
https://www.youtube.com/watch?v=BEez0B59aQI
Enjoy!
Posts: 367
Joined: Sun Jul 11, 2010 7:21 am
---
It's brilliant Adam, like I said on Facebook.

There's so much to be impressed with I don't know where to begin. I like everything!

I found that most of the operation is intuitive and I didn't once refer to the user manual (which is also excellent by the look of it). On the few occasions I wasn't sure at first, it was very easy to work out. This in itself is a worthy achievement.

I hope this is a commercial success, it deserves to be.

Cheers

Spogg
Posts: 1959
Joined: Thu Nov 20, 2014 4:24 pm
Location: Birmingham, England
---
Congradulations Adam! I have had the chance to sneak peek parts of this epic work along the way, but to see the finished product is plain overwhelming! Everything is so damn professional, the GUI, the video, the manual, your website. And knowing your ambition and endurance to work on every component until it is just perfect, I am sure the synth is worth its every Eurocent. Chapeau!
Posts: 862
Joined: Sat Jun 22, 2013 8:28 pm
---
nice sound, I liked most acid sounds. Congratulations


what do you use for reverb, is it convolution? sounds cool
Posts: 62
Joined: Tue Jan 06, 2015 5:42 pm
---
WOW ...
Nice video too !

Posts: 1303
Joined: Thu Mar 08, 2012 7:58 pm
---
Extraordinary! This synth is state of the art, and it sure was the largest project, anyone has ever accomplished in Flowstone. It also was a fantastic experience to work with you for quite some time. It was a pleasure to contribute and since you never lost confidence in me, I was able to give it back on one or two occasions, where you really needed to be cheered up. And it was worth it, Adam. Your synth is playing in the big league and I wish you all the success you deserve. Next milestone: 1000 copies sold!

Posts: 1867
Joined: Sat Jun 21, 2014 2:48 pm
Location: Germany
---
Hello adam,

Like everyone has said this is really a great piece of work, congradulations. Everything about is really nice. Keep up the great work!

Cheers, BobF.....
Posts: 502
Joined: Mon Apr 20, 2015 9:54 pm
---
Thank you for the kind words guys!
Logado wrote:what do you use for reverb, is it convolution? sounds cool
Nope, its algorithmic reverb. I wrote it myself.
Posts: 367
Joined: Sun Jul 11, 2010 7:21 am
---
Hi Adam,
Very impressive piece of work !
Your video is well done also.

Best of success with your new product !

ROXY

Posts: 215
Joined: Mon Jan 04, 2016 7:04 pm
Location: Oakland Gardens, New York City, U.S.A.
---
Well done, Adam. One of the most incredible things ever done with FS

Wish for you that FS is going to 64 bit ASAP because this one deserve being at the top notch list and sell 10000 copies.
Posts: 474
Joined: Tue Mar 19, 2013 4:21 pm
---
---
Who is online
Users browsing this forum: Google [Bot] and 18 guests