There are 3 sections to this support area:
DOWNLOADS: access to product manuals, support files and drivers
HELP & INFORMATION: tutorials and example files for learning or finding pre-made modules for your projects
USER FORUMS: meet with other users and exchange ideas, you can also get help and assistance here
So, I've made this new track called flowmates. I used loom and the waves element synths to throw it together. I used some intros by zenhiser and it came out pretty nicely.
I thought the name was cool, I'd had some vocals that said downtown and I'll use them for another track so I chose this new name. Peace out!
BTW, here's the CD Single cover (being sold now):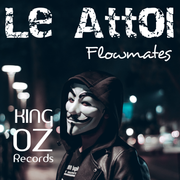 And here's the video
Posts: 912
Joined: Tue Apr 03, 2018 5:50 pm
Location: North Bay, Ontario, Canada
---
Who is online
Users browsing this forum: Google [Bot] and 30 guests